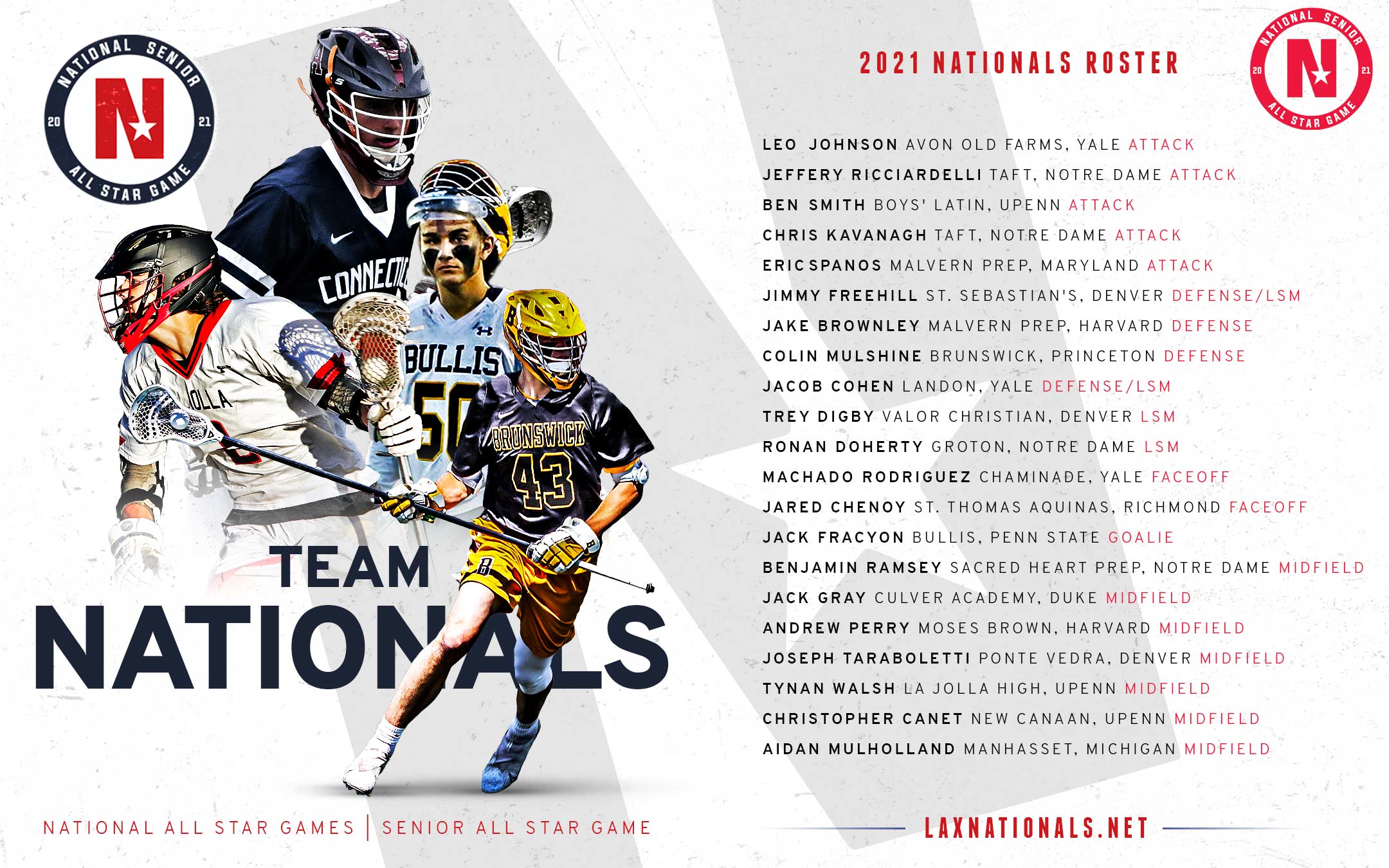 Roster set for inaugural Senior National All-Star Game, to be streamed on ESPN3
Selection of 44 elite players from the Class of 2021 represents 16 states, 17 top college destinations
Final rosters for the inaugural Senior National All-Star Game have been set, dividing 44 of the nation's best Class of 2021 players into two squads for a one-of-a-kind lacrosse showcase on Saturday, July 10. The game, which begins at 7 p.m., will be streamed on ESPN3. The teams are divided into the National and American squads. Two captains, attackman Leo Johnson of Avon Old Farms in Connecticut and attackman Dewey Egan of Torrey Pines in California, selected the starting lineups via online draft. The remaining players were divided by a selection committee to fill out the rosters. Players taking part in the game hail from 16 states. They have pledged their futures to 17 high-level college destinations, led by seven players bound for Notre Dame and four to North Carolina. All four national semifinalists in 2021 – Maryland, North Carolina, Duke and two-time reigning national champion Virginia – have at least one representative in the game.
The Senior National All-Star Game will be the centerpiece of the second edition of the National All-Star Games, which will bring together the top boys lacrosse players in the high school classes of 2022, 2023 and 2024 representing 14 regional squads from coast to coast. The tournament runs from July 9-11 in Maryland, with the Senior National All-Star Game on July 10 at Boys Latin School's historic Federico Stadium. It will be available on ESPN3, with lacrosse experts Paul Carcaterra and Mark Dixon on the call.
Many of the players in the Senior Game represented their regions last year in the inaugural National All-Star Games. "We're honored to bring together the top players in the Class of 2021 for the first Senior National All-Star Game," said Ryan McClernan, the CEO of B'More Lax Company and founder of the National All-Star Games. "Having a game for seniors is a natural addition to the young guys' games. It's a great way to acknowledge those guys across the country that have stood out to their peers, that have played at a level that is unprecedented and to showcase them one more time before they head off to college. It's a game that is for the players and about the players."
B'More Lax Company was founded in 2005. A nationally recognized tournament and camp provider, B'more Lax Company is responsible for hosting the annual CRABFEAST boys lacrosse tournament, one of the top annual recruiting events in the country, as well as the YounGunz youth tournament and the selective Top Prospect "old school teaching camp" for 7th- and 8th-grade boys that draws athletes from more than 15 states every summer. For more information on the National All-Star Games and to sign up for regional tryouts, visit laxnationals.net.
Follow the National All-Star Game on Instagram @Nationalasg. Contact tournament representatives at any time via phone, (877) 272-2704, or email [email protected].
College Commitment: Yale University
Avon Old Farms
5'9''
175lbs
Jeffery Ricciardelli
Attack
College Commitment: Notre Dame
The Taft School
5'8''
165lbs
College Commitment: University of Pennsylvania
Boys' Latin School
5'10''
180lbs
College Commitment: Notre Dame
Taft School
5'10''
165lbs
Club Program
Express Lacrosse
Hometown
Rockville Centre, NY
College Commitment: University of Maryland
Malvern Prep
6'4''
205lbs
College Commitment: Denver
St. Sebastian's School
6'4''
194 lbs
Club Program
Top Gun Fighting Clams
Hometown
Chestnut Hill, MA
College Commitment: Harvard
Malvern Prep
6'1''
200 lbs
Club Program
DC Express 2021 Black
College Commitment: Denver
Valor Christian
6'2''
195 lbs
Club Program
Denver Elite
Hometown
Cherry Hills, CO
College Commitment: Notre Dame
Groton School
5'10''
180 lbs
Club Program
Laxachusetts
Machado Rodriguez
Faceoff Midfield
Chaminade HS
5'9''
190 lbs
Jared Chenoy
Faceoff Midfield
College Commitment: University of Richmond
St. Thomas Aquinas
5'9''
185 lbs
College Commitment: Penn State
Hometown
Sherwood Forest, MD
Culver Academy
6'1''
190 lbs
Club Program
West Coast Starz
College Commitment: Harvard
Moses Brown School
5'10''
185 lbs
Club Program
Piatelli Central
Joseph Taraboletti
Midfield
College Commitment: Denver
Ponte Vedra HS
5'10''
175 lbs
Club Program
Sweetlax National/Sweetlax Florida
Hometown
Ponte Vedra Beach, FL
College Commitment: UPENN
La Jolla HS
5'9''
170 lbs
Club Program
Mad Dog National
Christopher Canet
Midfield
College Commitment: UPENN
New Canaan HS
5'11''
175 lbs
Club Program
Eclipse Lacrosse Club
Aidan Mulholland
Midfield
College Commitment: Michigan
Manhasset HS
6'1''
198 lbs