2022 Championship Recap and Standouts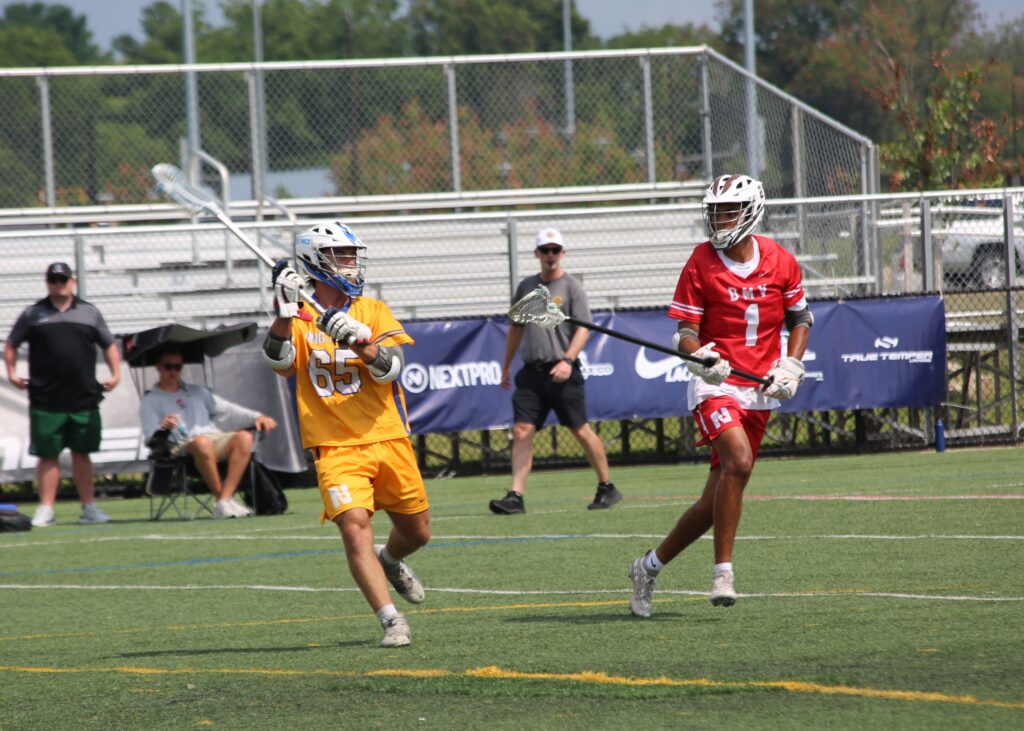 The allure of a tournament like the National All-Star Games is easy to see for attacking players. You're a talented short-stick? Great, go play with a bunch of others and see what magic you can conjure in the attacking half. More talent, more goals, more fun.
But if you're a defenseman, that sounds a little like the stuff of nightmares. It's one thing to look for a relative weak link in an opponent's offense. But what happens when there are no weak links?
If you've got the mentality of Cullen Brown, it sounds like an opportunity. And even against the best of the best offensive talent, the DMV defenseman was eager to assert himself and show what he and his mates could do.
Moore was the MVP of the Class of 2022 final Sunday, helping DMV lift the title with a 10-5 win over Long Island. For the Ohio State commit, getting a chance to burnish his skills against so many outstanding attackmen is exactly the kind of challenge he's always up for.
"It's really fun," Moore said. "Playing with all the guys, we have a lot of energy. When we pick up a big groundball in front of the net, going the other way and getting a goal, that's kind of the juice for us. All the committed attackmen on Long Island, they're great players. But we feel like all of us playing together and making big plays and turning in offensive plays, it brings the energy to us."
It doesn't hurt that he played on a DMV defense stacked with Big Ten commits – George Stamos (Maryland), Ryan Splaine and Riley Figueiras (both Rutgers) and goalie Hunter Taylor (Michigan), plus impressive Richmond commit Aidan Fairchild. But particularly against a loaded Long Island offense, DMV rose to the occasion.
Brown was everywhere in the final, but he wasn't alone. Splaine added a goal. Brown led the way with two caused turnovers, but the team as a unit muzzled Long Island's potent attack, sliding well, recovering smartly and causing all kinds of consternation.
Splaine's goal in particular – because it is all about the goals – got the defense going.
"We got a big stop, big groundball in front of the net," Brown said. "I don't know who got the outlet, but Splaine got the ball and finished it. We were juiced up on this team, me and Charlie Muller, big fist pump, so we were excited for that stop."
DMV did a great job of denying goals. In six games on the weekend, they allowed just 28 goals. That included a 7-2 win over a high-powered New England squad in the semifinals.
Long Island was the highest scoring team in the 2022 division, with 38 goals in three games Saturday. After upsetting top-seeded New Jersey in the quarterfinals, the eighth seed pasted Connecticut, 14-7, in the semis.
With its core of Team 91 and LI Express stars, the offense expectedly lit it up.
"Usually we compete against each other, so it's actually sort of nice to be on the same team and work our chemistry and what not," attackman Charles Balsamo said. "These games are more about pride and showing which region is the best."
The two-headed monster of Balsamo and Matt Caputo did the heavy lifting on offense. Caputo had five goals in the semifinal and three in the final. Balsamo, who had an assist in the final, added a semifinal hat trick.
"I think that we all came together," Balsamo said. "We had some hardships yesterday, we lost and we rallied back the first two games today and unfortunately didn't get the result we wanted in the championship. But we showed a lot of heart and we had the least amount of kids on our team out of all the kids here, so it showed a lot that we were able to fight till the end."
DMV spread the offensive load around. Eight players scored in the final, led by Eliot Dubick's hat trick, one on a sensational behind-the-back goal. Witt Crawford and Will McCulloch had a goal and an assist each. Taylor turned aside eight shots.
But the defensive end of the field is where DMV did its most damage, with Brown as the ringleader.
"We were excited to play in the championship game, representing the DMV," he said. "We're all the best players from around the area, so to represent our area against a strong area like Long Island was exciting for us. Late in the day, I don't know, it was our sixth game, seventh game, hot sun, but we were excited to get stopped."
(Standouts are from the four semifinalists only)
Cullen Brown, defense, Landon School/DMV
Brown was noticeable all day, covering so much ground in the defensive half. He's honed his aggressiveness to a fine point, knowing when to use his physicality and how to deploy his surgically effective stick to cause turnovers. He's a fearsome slider to the ball and very difficult to beat for speed or strength when you're locked up one on one.
Eliot Dubick, attack, Winston Churchill/DMV
Dubick stood out in the final, which isn't easy to do given the tremendously high baseline skill on the DMV squad. Dubick's hat trick, highlighted by his behind-the-back beauty, made a poignant case. The Maryland commit is a big attacker with long arms, and when he gets in motion, he's able to pack a punch with his shot.
Mac Eldridge, FOGO, Georgetown Prep/DMV
Eldridge was one of the better faceoff men on Sunday. His technique at the X is outstanding, able to win battles both long and short. When the Virginia commit wins draws, it's often clean and forward, launching straight into dangerous attacks.
Ryan Splaine, LSM, Gonzaga/DMV
Splaine scored a big goal late, but that's only a small part of what he brings. He's imposing in the defensive half, with an active stick and great footwork. He's a complete terror in the open field, able to gobble up real estate with long strides and trigger the attack, either by whipping a shot or handing off to the attack with heady feeds.
Charles Balsamo, attack, Chaminade/Long Island
Balsamo was the biggest reason why Long Island scored so much on the weekend with a hand in 23 goals (17 goals, six assists). The Duke commit has a knack for getting into dangerous areas, the strength to make the most of that hard work and tremendous hands to snap off a quick shot or the astute pass.
Matt Caputo, attack, Long Island Lutheran/Long Island
Caputo was unstoppable in the semifinal, with five goals. He added three in the final. Caputo was the guy that Long Island would get the ball to on long possessions to spark offense, which given the immense skill present is a massive honor. He's got the hands, physicality and powerful shot to be a threat from a variety of attack angles. The uncommitted attackman will be a late steal for someone.
Will Snyder, goalie, St. Anthony's/Long Island
Snyder made one phenomenal save, where he was jumping high to make a stop but kept his hands low to deny the shot. It's a testament to what the 6-5 goalie brings. His size covering high shots is tantalizing, but he's also very good going side to side and tracks shooters well. How his physical gifts can be molded at the next level is an enticing prospect for Fairfield.
JP Kosakowski, goalie, Bridgeton Academy/Connecticut
Kosakowski isn't just on here for the goal he scored in the semifinals. OK, a little bit. But it's emblematic of what he brings in and out of the cage. He's super aggressive getting out of his crease to cover shots, jump passing lanes and aid in clears. He's got the stick skills to make the right passes and decisions after he's made a save.
Joe Cesare, midfield, Darien/Connecticut
Connecticut was the second-highest scoring team Saturday, and dynamic middies like Cesare were a big reason why. He's elusive off the dodge, works well on the crease and has a tremendous shot that he will punish you with if you allow him even a sliver of space. Like Kosakowski, Cesare is uncommitted.
Aidan O'Neil, attack, Tabor Academy/New England
O'Neil is a high-volume attacker: He's always got the ball, and he's always looking to do something with it. Because he's so skilled and so secure with the ball in his stick, he's able to engage with defenders physically where others might shy away. And the Utah commit is able to use his body adeptly for leverage to create space for a shot or a pass.
PJ McKeigue, defense, St. Sebastian's/New England 
The rangy pole bound for Penn covers a ton of ground. He's an ideal blend of size and speed, able to stick with attacking players in coverage and use his leverage to and active stick to separate them from the ball.