2023 Championship Recap and Standouts
The Maryland huddle was not the happiest place to be after three quarters Sunday afternoon.
The team trailed Florida by three goals in the Class of 2023 final at Blandair Sports Complex, and the mood was anything but exultant. The message from the coaching staff, one the players readily agreed with, was that the team hadn't played up to its capabilities in the final. And it had 12 minutes to rectify that.
Maryland responded, though it took until 18.1 seconds were left on the clock to finally dispatch the feisty upstarts from Florida, a goal by Shuey Kelly giving Maryland the title and an 11-10 win.
"We didn't take care of the ball too much early in the game and weren't valuing it and weren't taking the best shots," the lefty from Calvert Hall said. "And coach brought us in, told everyone to relax and just play simple."
Maryland lived dangerously most of the day. The third seed after group play on Saturday, it beat New England, 9-6, before getting past last year's champion DMV in overtime in the semis, a Bo Webster (Gilman) drive down the left alley making the difference.
In the final, Kelly played the hero. Michael Smyth (St. Paul's) triggered the attack off a timeout, getting a step on his marker down the right alley. He spied Kelly popping out from the slot to about 10 yards, and Kelly received the pass and fired off a quick shot in one motion.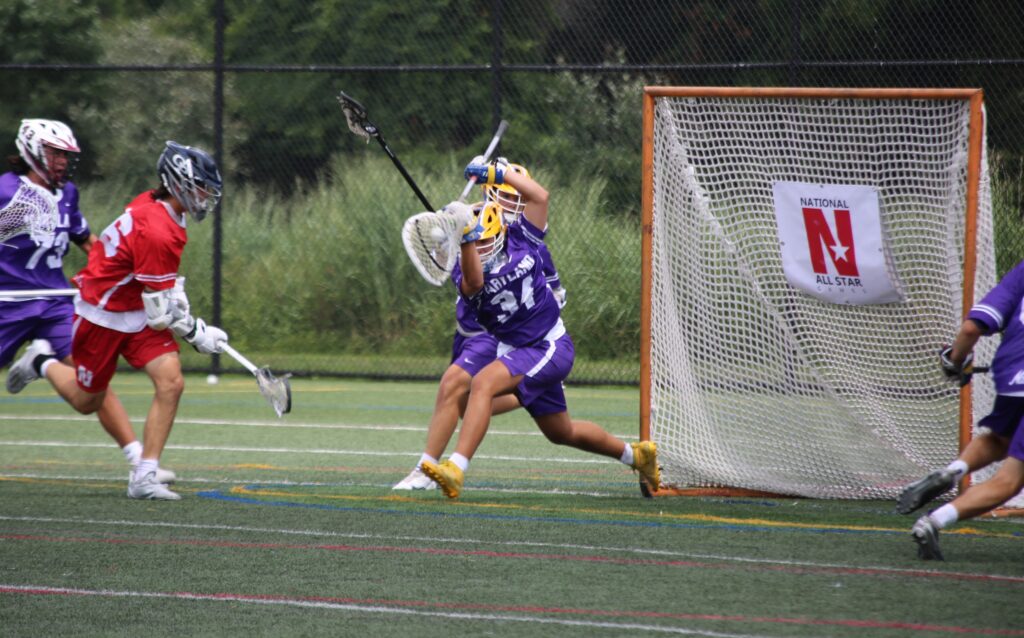 "We knew Michael was going to have the matchup, and he got underneath," Kelly said. "He was beating his guys all day. They were coming early to me the whole game, but I was a little too deep in that game. The last play, I just sat at eight and got a shot off."
It brought an end to a Cinderella run for Florida, the newest franchise instituted for the second edition of the National All-Star Games.  The fourth seed routed Connecticut in the quarterfinals, 10-5, before edging Midwest by a 7-6 margin in the semis. Midwest, the eighth seed, had upended No. 1 Mid America.
In the inaugural Games, Florida was part of the South region, which didn't make a semifinal. Yet split out by itself, the '23 Florida team showed not just formidable stocks of talent but a cohesive team concept that turned heads.
"It feels really good to be the underdog and win all those games and make it to the championship," midfielder Maddox Johnson of Ponte Vedra High School said. "We played really good against Maryland, a really talented team. We put up a better fight than most people would've expected, even us. It was exciting, it was very fun and just happy to be here."
Florida proved they belonged early and often. They led 5-2 before Maryland charged back, Owen Dixon depositing a rebound on the doorstep at the horn to send the teams to the break tied at 5.
In the third, Florida surged again to take a 9-6 edge. Spencer Surface (Bolles School) tallied a hat trick. Cory Bloss (Ponte Vedra) and Koby White (Lake Mary) formed a stellar midfield pairing with two goals each (White added two goals and an assist in the semis), and Brady Quinn (The Benjamin School) dished four assists to go with a goal.
With the bulk of the team hailing from SweetLax, the chemistry was instant. And in front of dozens of college coaches, the Florida standouts made names for themselves.
"This new team and this new opportunity, it gives a chance for a lot of new people to get their name out there," Johnson said.
But Maryland would have the last laugh. They put together a composed possession to start the fourth, which served as a launching pad. Dixon (Loyola Blakefield) got it going with a perfectly placed shot from goal-line extended, tucking a rising shot just under the bar, one of his four goals. Smyth scored twice. MVP Tyler Owings (Boys Latin) paired a goal with two assists, a caused turnover and dogged midfield play. Thomas Moxley (Boys Latin) came up with big wins at the X in the second half.
More than anything, Kelly said, that final quarter was about Maryland playing to its potential and responding to adversity.
"It's a lot more fun honestly, to not blow a team out and have it be close," Kelly said. "We didn't want it to be that close, obviously, but it shows a lot about this team that everyone cares and fought to get the win."
(Standouts are from the four semifinalists only)
Owen Dixon, attack, Loyola Blakefield/Maryland
Dixon just scores goals. He's not the biggest or fastest, but he's got elite hands, a rocket of a shot and the lacrosse IQ to put himself in dangerous spots on the field. His powerful, accurate shot is an absolute game-changer, and he knows what he has to do to get that shot off in all situations.
Tyler Owings, midfield, Boys' Latin/Maryland
Owings was the MVP of the final because he was everywhere you looked. He got up and down the field at will, no mean feat in the heat of the weekend's sixth game. He's rangy with long arms and quick hands to get power into his shot, but he's also a strong passer. He's a demon in the open field and an enthusiastic presence on the defensive side of the ball.
AJ Marsh, defenseman, McDonough/Maryland
Marsh doesn't so much cover opponents as engulfs them. With his 6-3 frame and long arms, he can just shackle an opponent into oblivion. But what makes him elite is that he also moves well. Physicality is a means to an end, and he doesn't just bully attackers for the sake of it but uses his feet and upper body to put them in uncomfortable positions and set them up for his devastating stick checks to separate them from the ball.
Michael Smyth, midfield, St. Paul's/Maryland
It says a lot about his playmaking that he was the triggerman on the decisive possession, despite the bevy of options. So many of Maryland's short sticks stepped up, from Dixon to Kelly to Nick Golini to Webster in the semifinal. Smyth has the poise and smarts to orchestrate from midfield and the raw ability to beat his man and create space for others to exploit.
Bobby Windesheim, defense, Salisbury School/Florida
Where Marsh is rangy, Windesheim has a more compact build. But that center of mass makes him impossible to bowl over. He moves well, has great balance, tremendous stick technique that is always in his opponents hands and works very well within the team concept, sliding and recovering well.
Maddox Johnson, midfield, Ponte Vedra/Florida
Take your pick of middies on Florida. Koby White seemed to never leave the field, shepherding the ball safely in transition. Corey Bloss ran by defenders at will to snap off shots. Griffin Moore was a physical presence on both ends. But Johnson might have the most polished skillset of the lot. He scored twice in the semifinal, able to create for himself and others off the dodge and place shots with venom.
Colin Kruger, attack, Jesuit/Florida
Kruger was the pick of the attackmen, scoring twice in the semifinals. He's a physical player at 6-1 and 200 pounds, and he's not afraid to dip his shoulder and engage a defender. He's able to get his shot off well with the space he creates, and he's a strong passer to get his teammates involved.
Nate Kabiri, attack, Georgetown Prep/DMV
So much of the DMV attack ran through Kabiri, and for good reason. His vision is next-level. He's able to direct traffic in the attacking half no matter where he has the ball, whether it's passing at speed into space he opens off the dodge or facilitating from X. He's the kind of attackman that requires teammates to constantly have their head up. If he finds you with a pass, you'd better be ready to do something with it.
Nate Murphy, defense, Paul VI/DMV
Maybe it's the gold helmet, but Murphy shined, though he had plenty of capable company in the defense from Isaiah Rose and Colin Christmas. Murphy was everywhere, hustling his tail off to cover shots and track runners. He's an excellent on-ball defender, with long arms that make him seem larger than his 6-2, quickness to keep opponents in front and strength to turn them into less dangerous areas.
Alex Fredrich, FOGO, Cherry Creek/Midwest
One of the better faceoff guys on the day, Fredrich was a big part of the Midwest's run to the semis. He's low to the ground, has great technique and is excellent at winning forward, valuing the ball and making smart decisions with it once he gets into the attacking half.
Watt Muir, attack, The Kinkaid School/Midwest
With five goals in two games Sunday, Muir led the Midwest attack. He's a big guy at 6-1, and he uses the physical strength well, dipping his shoulder into defenders and standing his ground. He doesn't need much space to get off a shot, and it's a heavy one.